| | |
| --- | --- |
| IMPORTANT PRODUCTS SAFETY RECALL NOTICE PLEASE READ IMMEDIATELY |   |
The Amprobe team is voluntarily recalling the AT-4000 Wire Tracer Series.
Why is this recall happening?
The T-4000 and T-4000-A Transmitters included in the AT-4000 Series Advanced Wire Tracer kits exhibit a condition that may lead to electric shock. 
 
When a transmitter is connected to hazardous voltage (T-4000 up to 600 V and T-4000-A up to 300 V), that voltage may appear on the exposed pin of the battery backup terminal or the backup battery if connected. Both the center pin and the battery terminal are accessible to being touched.

THIS CONDITION EXPOSES USERS TO A CONDITION THAT MAY LEAD TO ELECTRIC SHOCK.
How did this happen?
Designed more than 15 years ago, the AT-4000 technology was to be discontinued and replaced with newer technology. In a recent internal review we discovered this risk and are immediately undertaking this voluntary recall because we place tremendous importance on our customer's safety and the reputation of our products.  
 
We are confident our current safety testing standards will ensure every product meets and exceeds the safety our customers expect.
How do I know my Wire Tracer is an AT-4000?
If your Transmitter & Receiver have the form factor shown below and have the number "4000" on the faceplate (for example, "R-4000", "T-4000", "T-4000-A", etc.), you own an AT-4000 Wire Tracer Kit that is under recall (faceplate may not match exactly).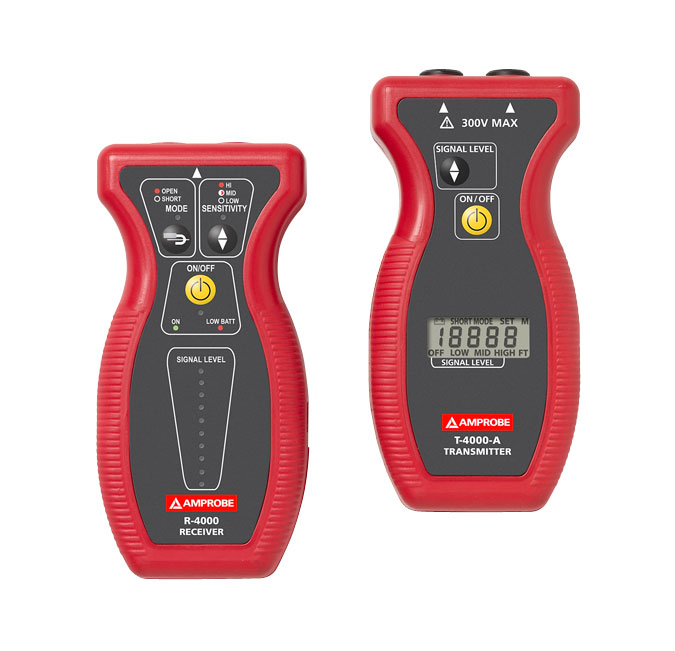 If you do own the AT-4000 Series Wire Tracer, STOP USING IMMEDIATELY. Amprobe will replace it with a new and complete kit of your choice at no cost to you once your AT-4000 kit has been shipped back. For each AT-4000 Series kit you own, you will receive an equal number of replacement kits. 
How do I return my AT-4000 for my new Wire Tracer Kit?
If you live in Latin America, you need to call your local distributor to arrange for the return and replacement of your recalled AT-4000 Wire Tracer Kit. Click here for a list of distributors.
If you live in the U.S.:


Click the button at the bottom of this page. You will be taken to an online form that needs to be completed. The form will request your shipping information.
Once you submit your information, we will send one box with a prepaid shipping label for every AT-4000 Kit you own within 1 week.
Returned kit MUST include everything in your case for replacement to be shipped. You may keep the hard case.
Once we receive the items from your AT-4000 kit(s), your replacement kit(s) will arrive within 2 weeks.
Replacement Kit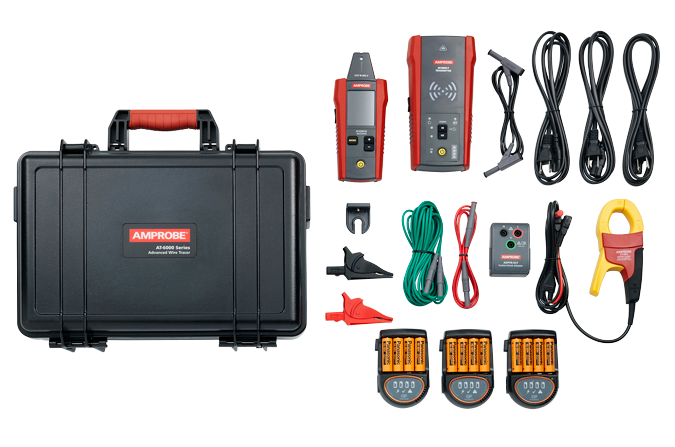 AT-6030 Advanced Wire Tracer Kit:
Traces wires in walls, ceilings, floors and corners
Locates breakers and fuses
Pinpoints opens and shorts
High resolution 2.5″ TFT LCD Color Display
Three Transmitter signal modes

"High Signal" power mode for normal circuits
"Low Signal" power mode for precision tracing in difficult areas
"Loop" mode for closed loop de-energized circuits

Four Receiver tracing modes

"Quick Scan" mode allows for quick wire detection at a longer distance
"Precision" mode precisely pinpoints wires or faults located behind walls, floors, or ceilings
"Breaker Identification" mode facilitates quick and easy breaker locating
"Non-Contact Voltage Detection" mode utilizes passive tracing without the Transmitter to verify if a wire is energized

Two automatically selected frequency modes for reliable tracing on energized and de-energized circuits
Clamp-on attachment (CT-400) for inducing signal into wires without access to bare conductors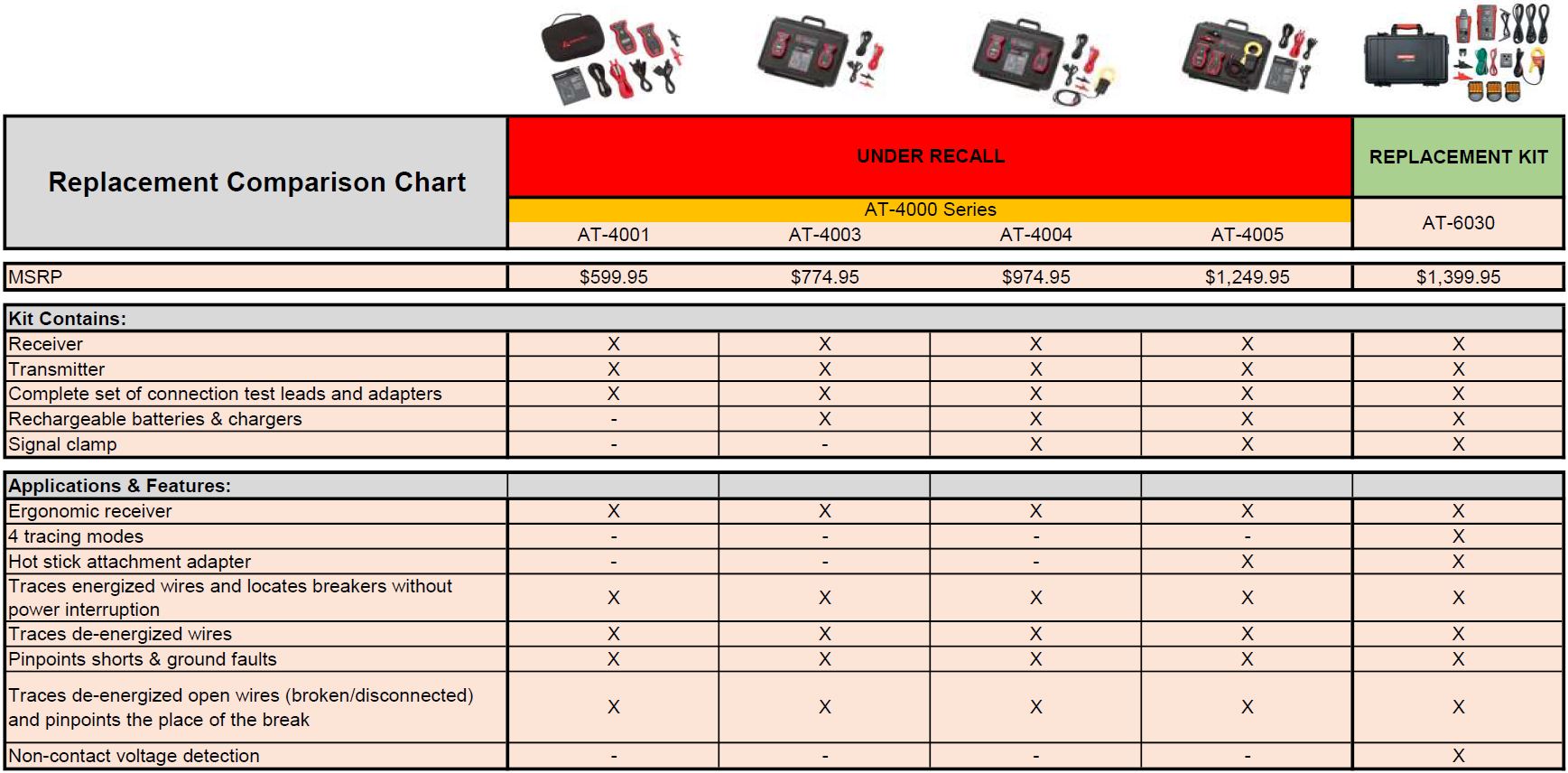 Click below when you are ready to fill in your information.
If you have any concerns or questions, please email info@amprobe.com