February 2023 
SAFETY WARNING! PLEASE READ! Important Recall Information Regarding Amprobe AM-500 / AM-510.
Dear Amprobe Customer, 
Fluke Corporation has identified a safety issue affecting certain Amprobe brand AM-500 and AM-510 Digital Multimeters, when used in CAT III electrical installations above 400 volts. (MEASUREMENT CATEGORY (CAT) III is applicable to test and measuring circuits suitable for connection to the distribution part of a building's low-voltage mains installation.) As a precautionary measure, Fluke has decided to recall all the affected products by providing a customer replaceable fuse.
We are sorry for any inconvenience this might cause you and hope you will understand that customer safety is our utmost priority.
The following AM-500/510 are being voluntarily recalled ("Recalled AM-500/510") 
Model Name 
Affected Serial Numbers  
Affected Mfg. Dates  

AM-500, DIY-PRO DIGITAL MULTIMETER

AM-510, RESIDENTIAL DIGITAL MULTIMETER

AM-510/WWG

Within the serial number range of: 535900001 – 587799999

And: Any other serial number that starts with any number other than a 5. 

21 September 2011 – 1 August 2022

 
All AM-500 and AM-510 shipped from Fluke after 1 August 2022 and with serial numbers not matching those specified above are NOT impacted by this recall.  Missing or illegible Serial Numbers should be considered to be affected products. 
Units within the affected serial number range which have had the fuse replaced can be identified by a separate label on the back of the unit indicating "W2239844". No further action is required for units with this recall correction label.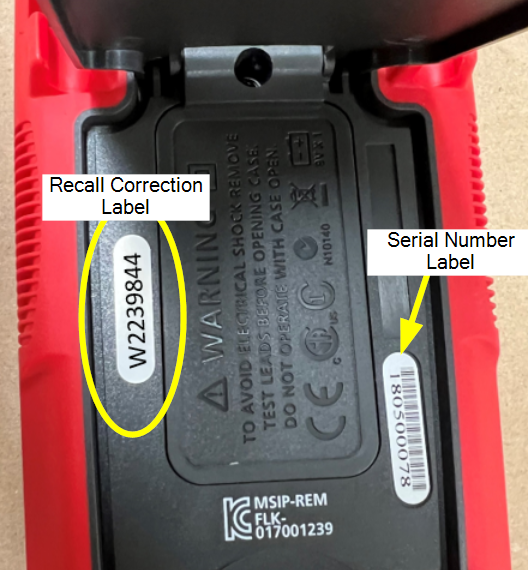 A. Description of safety issue 
It was discovered that an improperly rated fuse for CAT III 600V applications was installed in the Recalled AM-500/510.  The breaking capacity of the installed fuse is insufficient for the prospective fault current under foreseeable misuse conditions (abnormal application of electrical installation voltage above 400 volts between A and COM terminals) and may lead to venting or rupture of the fuse and the subsequent possibility of arc explosion.  An arc explosion within the product enclosure may readily escape and result in severe bodily harm or even death. It should be noted that at this time Fluke is not aware of any reported incidents related to this identified product deficiency.
B. Corrective Action
Please IMMEDIATELY STOP using your Recalled AM-500/510 in CAT III electrical installations above 400 volts. Please register via the link below to receive a correct replacement fuse at no charge.
C. What you need to do now 
Complete the form linked below, where you will be provided with further detailed instructions. Please include your complete contact information, including email address and shipping address. We will send you a fuse replacement kit to correct your Affected Product. 
Please accept our most sincere apologies for any inconvenience caused by this action and should you have any questions, please do not hesitate to contact us. Contact information can be found at https://www.amprobe.com/contact-us/. 
Thank you.